FORT LAUDERDALE, Fla. - Grounded in sand bars, adrift in the sea or washed onto private beaches, the boats keep piling up: rafts made from Styrofoam, sailboats, hollowed-out drums attached to ironing boards.
Four months ago, Hurricane Ian turned boardwalks into piles of debris and moved boats miles from where they had been docked. Hurricane Nicole arrived on the east coast one month later to shake loose what Ian had not.
With the hurricanes, the Florida Fish and Wildlife Conservation Commission, the agency in charge of tracking down abandoned or derelict vessels, already had its hands full.
Now, however, the vessels left behind by migrants intercepted along Florida's shores have become the latest emergency undertaking by the FWC, part of a new effort by the state government to assist local municipalities and private citizens who can't afford to haul off the boats themselves but are often the ones left to deal with them.
The boats have become physical reminders of the immigration crisis, often more difficult to remove from the state's borders than the occupants themselves.
They are rarely salvageable.
Most migrant vessels are already in such poor condition that the Coast Guard has to rescue those on board from drowning, according to Petty Officer Nicole Groll, a spokesperson for the Coast Guard's Seventh District.
'We say rescue and save lives, we mean rescue and save lives,' Groll said. 'We usually get them as they're bailing water.'
A look at the numbers
At the end of June, prior to Hurricanes Ian and Nicole, the Fish and Wildlife Conservation Commission reported more than 400 active abandoned or derelict vessel cases.
As of January, the total number of active cases in the FWC's derelict vessel database surpasses 1,000. That doesn't account for the hundreds of derelict vessels that FWC had already identified and removed during hurricane recovery efforts over the course of the last six months.
It is unclear what percentage of current cases are migrant vessels, though many recent cases in the database are listed with unknown registration numbers or do not have a registration number at all.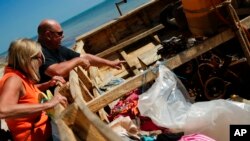 FILE - Tom and Andrea Heinz investigate the motor of a beached migrant boat on Coco Plum Beach in Marathon, Fla., Jan. 19, 2023.
The Florida Division of Emergency Management announced on Jan. 13 that it had removed 40 migrant vessels in the Florida Keys and identified another 250 for removal. FWC removes more derelict vessels from Monroe County, where the Keys are located, each year than any other area of the state, the agency said in 2022.
The number of migrants attempting to reach Florida by boat has skyrocketed in the past year. The Coast Guard interdicted over 6,000 Cubans and over 7,000 Haitians in 2022 compared to over 800 Cubans and over 1,500 Haitians in 2021. The agency does not have numbers on the number of vessels it encounters.
What happens to migrant vessels?
The fate of an abandoned vessel depends on where it washes up, if it does at all.
Two weeks ago, if a boat landed on your front yard in Florida, you would have to remove it yourself and foot the bill.
That is still the case, unless the vessel is a migrant vessel. On Jan. 11, days after Gov. Ron DeSantis signed an executive order mobilizing the Florida National Guard in response to the surge of migrants arriving on Florida's shores, the Florida Division of Emergency Management announced in a tweet that the state would now handle abandoned migrant vessels on private property.
'Abandoned vessels under Mass Migration EO 23-03 are not your problem,' the tweet read, referring to the order. 'If an abandoned vessel lands on your property, you are not responsible for its removal. The state will remove these vessels for you free of charge.'
The state's announcement came one day after WSVN reported that residents of a home in Key Colony Beach had discovered an abandoned vessel docked on their property that they had to pay thousands of dollars to remove, the result of a state law that declares the finder of an abandoned vessel on private property responsible for its removal.
'For a vessel in public waters, any authorized, jurisdictional agency has the legal authority to follow protocol for the vessel's ultimate disposal,' read a letter City of Key Colony Beach sent to residents, dated Jan. 5, six days before the state's announcement. 'This does not change a property owner's responsibility with regard to derelict vessels on private property.'
FILE - Paddleboarders draw close to get a better look at a beached migrant boat named La Esperanza, Spanish for 'hope, on Coco Plum Beach in Marathon, Fla., Jan. 19, 2023.
On Jan. 12, the day after the state's announcement, the city sent out another letter.
'As of the governor declaring a state of emergency the following program has been put into place,' the letter read, attaching a picture of the Jan. 11 tweet.
A costly, complicated process
Removing abandoned or derelict vessels on public land can be a lengthy, expensive process involving multiple jurisdictions on both state and federal levels.
Florida Fish and Wildlife, the Coast Guard, the Army Corps of Engineers, the National Oceanic and Atmospheric Administration, local city and county governments and private citizens can all be on the hook for handling abandoned or derelict boats.
'The FWC, City, County and other Municipal Governments work together to hire marine contractors to perform removal, destruction and disposal work,' said Ashlee Sklute, a spokesperson for the FWC. 'Per Florida statute, vessels that have been rendered derelict must be destroyed and taken to a landfill.'
Migrant boats are often in derelict condition, but they don't always make it to a landfill.
The Coast Guard is often the first agency to respond, handling all incidents that occur in the water before migrants set foot on shore. After Coast Guard crews interdict migrants at sea and return them to their country of origin, some of the vessels remain, indefinitely, in the ocean.
The Coast Guard destroys what it can and leaves what it cannot, according to Petty Officer Groll.
Vessels made of Styrofoam, for example, cannot be destroyed without harming the environment, Groll said. Crews will also make sure that all the gasoline is off a boat before leaving it.
'We do our best to take care of it then and there,' Groll said. 'We try to destroy it if we can destroy it. If we can't, they're left adrift, and we mark it so people know it's not in distress.'
Some vessels wash ashore and become part of the landscape.
For example, Coast Guard crews interdicted an overloaded sailboat carrying hundreds of Haitian migrants off Ocean Reef, a private club in Key Largo, in August. The Coast Guard repatriated many of the occupants, while Customs and Border Patrol took those who made it to shore into custody.
The sailboat itself ran aground, where it remains, Groll said, on a 'more permanent sandbar-type situation.'
Many derelict vessels with and without registration numbers have stayed in 'under investigation' or 'pending removal' status for months, even years, in the FWC database. Part of the delay is due to the fact that authorities must conduct monthslong investigations to identify the owner of the vessel before they remove it, though this does not apply to migrant vessels.
Sklute, the FWC spokesperson, did not say whether the agency is prioritizing the removal of migrant vessels over other boats.
Vessels also often require 'special salvage techniques,' said Sarah Ladshaw, the Southeast Regional Coordinator for the National Oceanic and Atmospheric Administration, which helps fund vessel removal projects. The complexity of removing the boat depends on the habitat in which it is found. Sometimes agencies need permits before they can begin the work.
'If they're impacting natural resources that are important, there are special techniques to do as little harm as possible,' Ladshaw said.
Some boats can simply be tied and floated out, she said. Others that have sunken have to be raised and drained, and divers may have to get involved.
Cost of removal
The cost of removing a single vessel can reach the tens of thousands, Ladshaw said, depending on the boat's location and condition. The state of Florida has ramped up its spending on the removals, allocating over $8 million in 2022, a $5 million increase from 2021.
Right now, the money for the new migrant vessel removal operation comes from the Emergency Preparedness and Response Fund, according to Marnie Villanueva, a spokesperson for the Florida Division of Emergency Management. The fund was established in 2022 as a source of readily available money that DeSantis can use on declared emergencies without approval from the Legislative Budget Commission.
Much of that money has gone to restoration after Hurricane Ian. The Florida Division of Emergency Management announced on Jan. 19 that it had committed more than $500 million to recovery efforts.
It is unclear how much money remains in the fund or how much has been specifically allocated towards vessel removals. The Florida Division of Emergency Management has not yet provided that information to the Sun Sentinel newspaper.